Our uniform store point of sale is designed with uniform and work boots stores in mind, to allow you to run a more efficient and profitable operation. Enhance your customer satisfaction and improve your bottom line.
With complex color and size combinations, constantly shifting customer demands and the growing pressure of e-commerce, things can be complex for uniform and work boot stores.
Rapid provides a comprehensive POS, inventory management software to help you easily manage inventory, sell online, and manage multiple locations with ease, so you can focus less on your store operations and more on what matters - your customers.
Custom built features designed for your Uniform Store
Powerful point of sale software for quick barcode scanning, item lookups and checkout all packaged in an adaptable, intuitive, and simple touch interface that makes checkout lightning fast. 
Manage quotes, customer history, customer statements, special orders and backorders seamlessly through the POS. Track & fulfill customer orders including deposits, final payments and shipments all in one place.

Customized flexibility to stock a single inventory item in multiple colors, sizes, lengths and widths so you can spend less time ordering and more time on your window displays! Not to mention, easily do alterations and services transactions. 
Omni-Channel Inventory Control
Keep the best styles in stock with inventory management software that allows you to easily track and manage inventory across your online and brick-and-mortar stores. Easily gain visibility to your best and worst sellers, item costs and profit margins. 
Easily set up and manage promotions, group pricing, credit account and special pricing based on customer level or group with easy to use sale software. Apply discounts on the fly to a full ticket or individual items or set up pre-programmed discounts. 
Customer Relationship Management
Increase your efficiency by tracking customer order profiles straight from the point of sale software to keep up with who's most profitable, and what they're buying. Enhance the customer experience with automated email marketing, account management, loyalty programs and more. Turn your first-time customers into life-long advocates of your business!
Mobility: Truly Mobile POS
Wherever you are, whatever you are doing, your mobile point-of-sale device will handle almost everything your main POS terminal(s) can. Look up real-time inventory, order products from vendors, complete transactions on or off site, and communicate important information to your staff.
Seamlessly integrate with your preferred eCommerce site platform – allowing you to easily merge your digital marketplace with your brick-and-mortar operations.
Unlock insights hiding in your data with easy-to-use reports focused on turn rates, profitability, weeks of supply on hand, and sell-thru-%. Data at your fingertips with comprehensive business intelligence tools that provide real-time insight to your operations so you can make decisions. 
With full visibility across your enterprise, seamlessly balance inventory, perform transfers, manage pricing, analyze shinkage and more. Make better decisions with comprehensive business intelligence tools that provide real-time insight to your operations. 
Efficiently manage customer accounts by defining terms, setting credit limits, viewing aging balances, emailing statements and tracking payments. 
We connect with the top accounting solutions in the industry, eliminating the need for manual entries and significantly reducing human errors.
We have a variety of customizable features and options available. Set up a call today to discuss your business needs and determine the best custom solution.
Immediate benefits you'll realize from Rapid's POS Software
Easy and real-time access to information about your inventory, customers, vendors and overall business operations.
Create a checkout experience that is accurate, simple, and secure.
Improve every touchpoint with your customer to build and strengthen customer loyalty and word-of-mouth promotion. 
Advanced Connections to Enhance your Business Operations
No POS solution can solve every headache on it's own. Rapid's POS solution brings a suite of integrated best-in-class tools to expand the functionality and utility of your system in ways you've only dreamed about. Some of our most popular integrations include: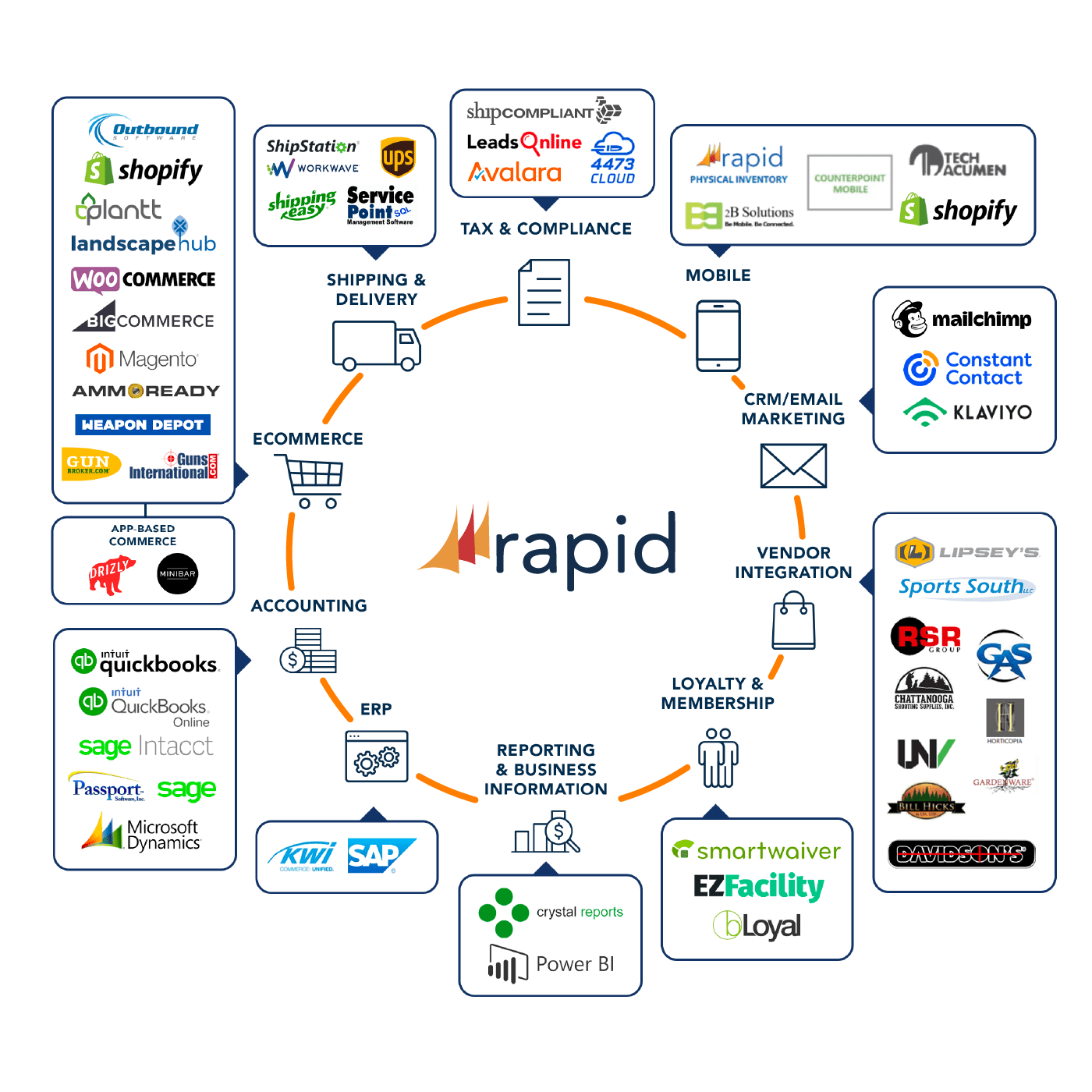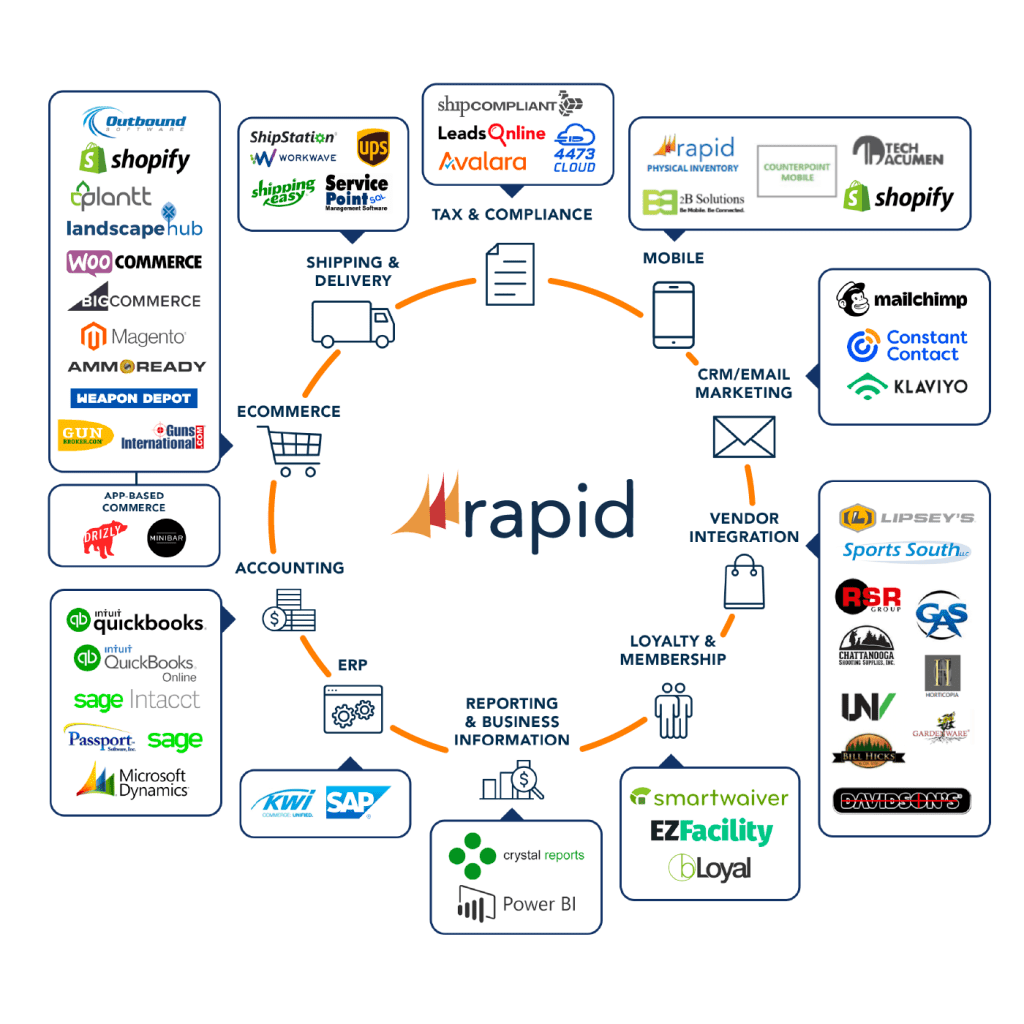 The service has been amazing! Rapid was able to customize the software to meet our specific business needs.