Gun Store POS Software: Shops & Ranges
Our Gun Store Point of Sale Solution will help you achieve 100% ATF Compliance. Rapid's FFL software is combined with advanced customizations and integrations to better your business operations and improve your bottom line.
With bound book management, 4473 background checks, firearm transfers, consignments, and managing gun range operations things can be complex for gun stores and ranges.
Rapid provides a comprehensive gun store and range POS software that's tailor made to address these needs and keep you ATF compliant so you can spend more time focusing on what matters - your customers.
Custom Features in our Gun Store POS Software:
Ensure 100% ATF compliance with accurate logging of acquisitions and dispositions with an electronic bound book that records transactions automatically and includes detailed audit trails.
Reduce errors and say goodbye to double entry with our electronic 4473 (e4473) that connects to the NICS eCheck platform to save time and paperwork. With an approved ATF variance, store your 4473 forms digitally through our partner, 4473 Cloud.
FFL & Private Party Transfers
Keep your customers happy with quick and easy system-guided FFL transfers, while ensuring you remain ATF compliant with our gun shop POS software.  
Rapid's FFL software makes firearm consignments simple by quickly managing gun intakes, tracking consigned firearms and consignor payouts. 
Streamline your shooting range by managing lane assignments, memberships, waivers, waitlists, and gun rentals with Rapid's gun shop software. Scan a customer's Drivers License to quickly run an age verification and waiver check.
Seamlessly manage gunsmithing work orders and easily generate estimates for repairs, cleanings, and other services. Maintain job order statuses with the option to automatically alert a customer when their firearm is ready for pickup with our simple inventory management software. 
Take all of our powerful features on the road with you, even if you don't have access to the internet. Quickly serve customers, gather their information, and run eBound-book entries as if you were in the store. 
Vendor Catalog Integrations
Expand your inventory in store and with online sales by easily accessing distributor catalogs in real time through our vendor integrations. Import barcodes, descriptions, and other item info so you can keep sales flowing in. 
Build customer profiles, record billing info and track special orders. Enhance the customer experience with automated email marketing, loyalty programs, membership management, gift cards and more. Turn your first-time customers into life-long advocates of your business with customer loyalty programs!
Easy Physical Inventory & Auditing
Rapid gun systems makes counting your inventory a breeze with our pos system – simply scan to count your firearm and non-firearm items and our system will provide you with any deltas while simultaneously auditing against your bound book all from our gun shop software.
What fun are clipboards? Automate your purchasing, track stock levels, receive alerts at low inventory management, and manage special orders at the push of a button on your pos system.
We connect with the top accounting solutions in the industry, saving time and minimizing error in the financials of your gun shop, all integrated into our pos system and inventory management software. 
We have a variety of customizable features and options available on the pos system. Set up a call with Rapid Gun Systems today to discuss your business needs and determine the best custom solution for your gun shops. 
Immediate benefits you'll realize from our Shooting Range and Gun Store POS include:
Easy and real-time access to information about your gun shops inventory, customers, vendors, online sales and overall business operations.
Create a checkout experience that is accurate, simple, and secure with rapid gun systems retail management software.
Improve every touchpoint with your customer to build and strengthen customer loyalty and word-of-mouth promotion, including service department management. 
Advanced Connections to Enhance your Business Operations
No POS solution can solve every headache on it's own. Rapid Gun Systems brings a suite of integrated best-in-class tools to expand the functionality and utility of your system in ways you've only dreamed about. Some of our most popular integrations include: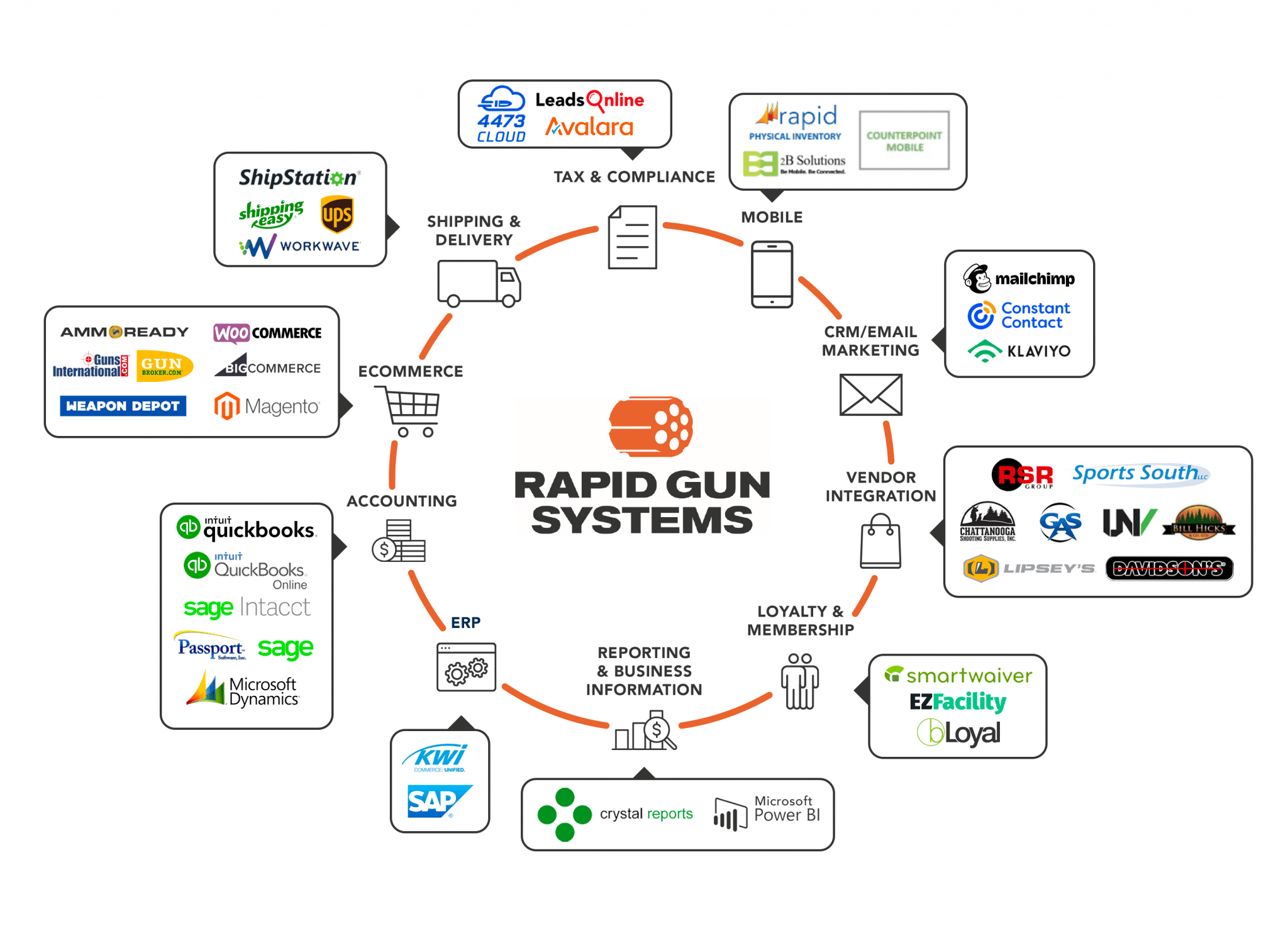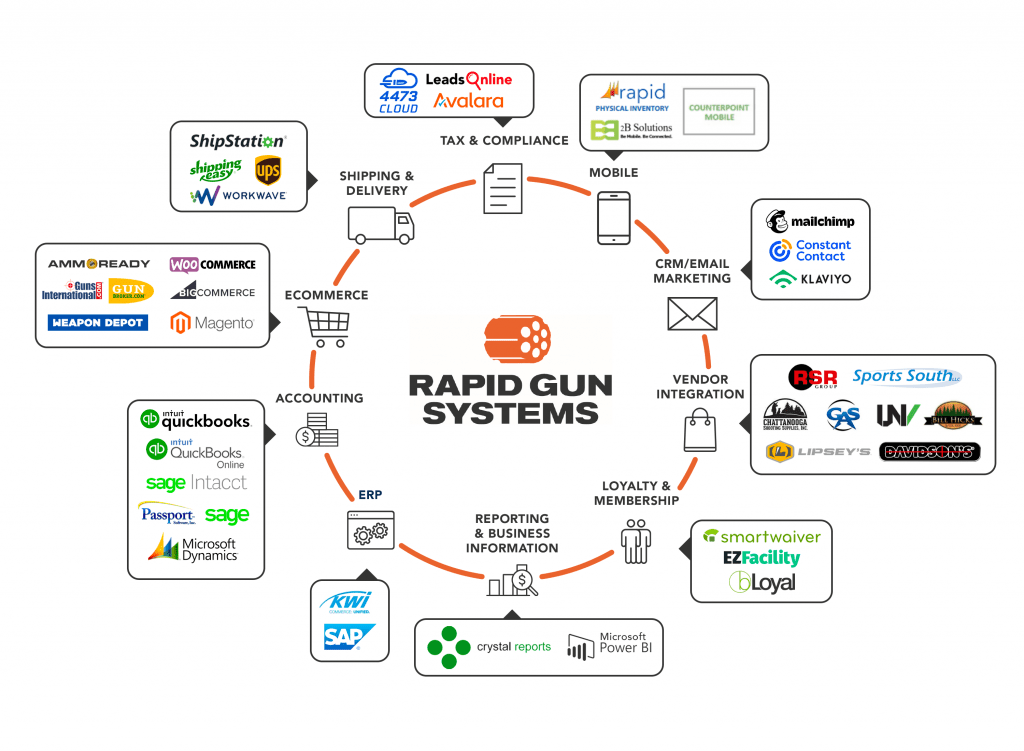 Check out our dedicated Rapid Gun Systems website to learn more about the best POS for Gun Stores and Shooting Ranges!
We Switched from Celerant and we are never going back! Rapid has streamlined our processes from multiple outdated software systems! The ease of use for gun sales makes this a no-brainer for any FFL. It has simplified our tasks from receiving all the way to disposition.