Nursery & Garden Center POS System
Nurseries, Lawn and Garden Centers need a different pos systems than other retailers. From managing live plant inventory, retail and wholesale customers and seasonal rushes, garden centers have unique needs. Rapid offers a customizable & expandable POS system to manage all aspects of your business operations.
Garden Centers, Nurseries, Landscapers and Landscape Material Suppliers have unique inventory management and business challenges. Our point of sale solution is designed to help:
…streamline business operations in a way that is customized to fit your garden center.
Request a FREE Quote of our Garden Center POS System
Our Nursery & Garden Center POS System include custom features:
We understand the need for speedy checkout, especially during the seasonal rush. Rapid offers an adaptable and intuitive touch interface with integrated credit card processing to make checkout lightning fast. Our garden center pos combined with mobile options will allow you to checkout customers anywhere.
Green Inventory Management
Seamlessly manage your plant inventory including bulk goods, individual items being combined for planters/gift baskets, and dead stock. Easily reduce or eliminate shrinkage, stock outs, and stock discrepancies with our garden center pos.
Customer Management & Loyalty
Our POS systems offer state-of-the art tools for garden centers and nurseries to engage with their customers. Customer management is unique to your store's needs. Create different nursery customer classifications, target email marketing to one or more classes, build loyalty programs unique to each customer class, and track customer purchase patterns and preferences. 
Rapid POS can integrate your store with a variety of eCommerce platforms – allowing you to seamlessly merge your digital marketplace with your brick-and-mortar operations. Your inventory management system will be the centralized database and will track sales from your garden center website.
What fun are clipboards? Our garden center POS systems include features to automate your purchasing, track stock levels, and manage special orders at the push of a button.
Rapid's point of sale solution manages backorders, special orders, online orders, and even pre-orders of seasonal items.
Define multiple price levels, contract prices, retail markdowns, and quantity discounts in the POS.  The system automatically applies the appropriate pricing/promotion based on the customer profile identified. Rapid's POS systems allow you to setup seasonal promotions in advance and track metrics based on the promotional prices. 
Mobility: Truly Mobile POS
Mobility is something that every garden center considers.  Your POS needs to be able to support your customers and manage your inventory anywhere in your stores, yards, greenhouses, warehouses or grow sites. We put tools in your employee's hands so that they can work where they need to and have a point of sale accessible anywhere.
Our garden center POS has comprehensive landscape management, allowing you to manage a broad array of services, including delivery, design/build landscaping, landscape maintenance and the creation of custom planters.
Build quotes, generate orders, schedule deliveries and more!
Barcoding and Printing Labels
Print barcoded tree tags, pot stakes, sticker and other waterproof labels with the software and hardware integrated into the POS. Customize them to inform customers and promote your store brand. 
Retain, view, and report complete details of every sale (in-store and online sales), plus seasonal and yearly analysis right within the POS system. We also offer real-time data visualization reports on your cell phone!
We connect with the top accounting solutions in the industry, saving time and minimizing error in your financials. Manage all your departments within the POS system: Nursery, Garden Center, Landscape Operations & More!
We have a variety of customizable features and options available, including multi-store configurations. Set up a call today to discuss your business needs and discover the best custom garden center software.
Immediate Benefits you'll realize from Rapid's Garden Center POS Systems:
Rapid offers garden center POS systems that provide effortless and real-time access to vital information regarding your inventory, customers, vendors, and overall business operations. Stay in control of your nursery and garden center with ease, making data-driven decisions to optimize your operations and nurture the growth of your business.
Garden Center POS systems should lighten the load of your operations team, especially during your busiest seasons. Rapid Garden Center POS creates a speedy checkout experience that is simple and secure while improving your customers' satisfaction.
The best POS systems improve every touchpoint in your store – most especially, customer management. Build and strengthen customer loyalty and word-of-mouth promotion. Convert first-time customers into lifelong advocates of your business.
Advanced Connections our Garden Center POS Provides to Enhance your Business Operations
No POS solution can solve every headache on its own. Rapid Garden POS revolutionizes the game by offering a comprehensive suite of integrated best-in-class tools specifically designed within the garden center POS systems we build. This powerful combination expands the core pos system to new heights. Some of our most popular integrations include: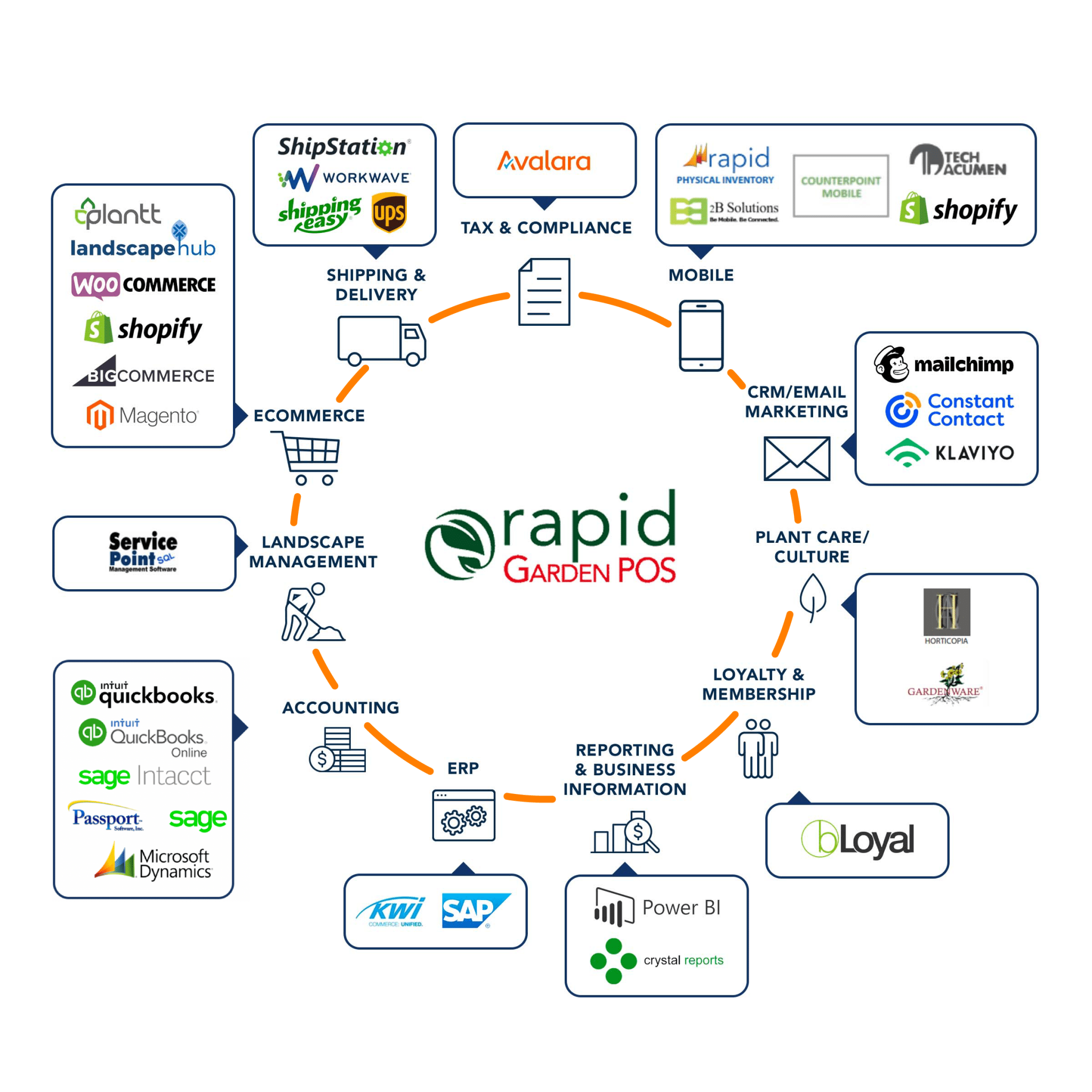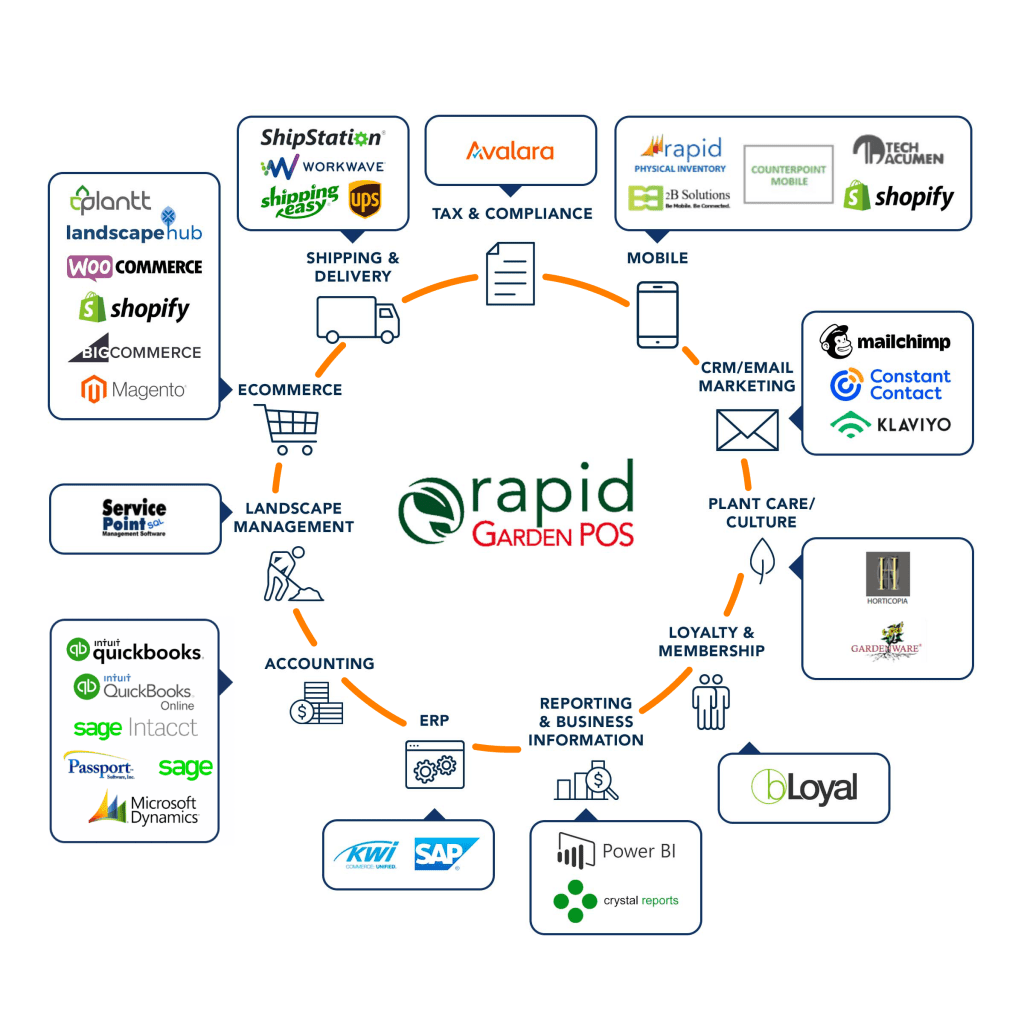 Check out our dedicated website to learn more about the best POS for Garden Centers, Nurseries & Greenhouses!
We have successfully been working with Rapid Garden POS for more than 12 years. The Rapid team's service to us, and to their other garden center customers across the country, showcases how much they really understand the peculiarities and attributes of the garden industry. Rapid Garden POS offers features and functionality that are specifically tailored to our needs, and the Rapid team continues to develop solutions to enhance the pos system.