Grocery Store POS for Specialty Supermarkets, Delis & Ethnic Shops
Our Grocery Store POS System is designed with Grocery & Specialty Food Markets in mind and is robust at its core. Unlike typical supermarket POS systems, our modern cash register software comes with advanced integrators to enhance grocery operations and improve your bottom line.

With seasonal demands and weight based costs, things can be complex for specialty retailers such as meat, grocery, candy and ethnic markets. Learn why Rapid POS is trusted by specialty food stores like:
Delis, Meat Markets and Butchers
Candy Stores and Sweet Shops
Ethnic Markets and International Grocers
Health food or Natural Grocery Stores and Co-ops
Bakeries & Cafés
Rapid provides a comprehensive grocery store POS and inventory management software to help simplify your grocery store operations, improve your bottom line, and allow you to spend more time focusing on what matters - your customers.
Request a FREE Quote of our Grocery Store POS
Custom Features in our Grocery Store POS System
Rapid connects with a variety of weight scales directly into the point of sale, including countertop, in-counter scanner-scales and label printing scales to meet most grocery stores weighing needs, perfect for delis, meat markets, and produce shops! 
Powerful inventory tracking software enables you to reduce shrinkage, prevent stock outs, automate stock replenishments and direct store deliveries. Easily gain visibility to your best and worst sellers, item costs and profit margins with our sale system. 
Keep your candy shop pos transactions flowing! Our pos system technology allows you to handle credit card processing and customer transactions even if you aren't able to connect to the internet or network. 
We understand the need for speedy checkout, especially during the seasonal rush. 
Rapid offers a simple touch interface and self checkout options that makes checkout lightning fast on our grocery store pos system. Seamlessly and securely process payments including EBT. 
Advanced Business Analytics
Retain, view, and report complete details of every sale you make, plus seasonal and yearly analysis. Rapid's point of sale offers real-time data visualization and inventory management reports straight to your cell phone.
Customer Relationship Management
Build customer loyalty profiles, record shipping info and track special orders. Enhance the customer experience with automated email marketing, account management, loyalty programs, gift cards and more in our grocery store pos system. Turn your first-time customers into life-long advocates of your business!
Rapid can integrate your store with a variety of eCommerce platforms – allowing you to seamlessly merge your digital grocery marketplace with your brick-and-mortar operations, and keep track of your grocery stores inventory management across platforms. Allow your staff to process mobile payments with a virtual payment option to take your specialty grocery store on the go. 
Mobility: Truly Mobile POS
Wherever you are, whatever you are doing, your mobile point-of-sale device will handle almost everything your main grocery store POS system terminal(s) can. Look up real-time inventory, order products from vendors, complete transactions on or off site, and communicate important information to your grocery stores staff with our grocery store software.
Effortless Employee Management
Automate labor and employee management reporting and performance analysis, track employee hours, manage commissions, and implement security restrictions by employee level with our grocery store pos system. 
Rapid offers a full suite of commercial-grade modern cash register hardware for a POS solution that is durable, connected, adaptable and comes with a world-class warranty/replacement program, working seamlessly with our grocery store pos system and inventory management.
Item Pricing & Bottle Deposits
Define multiple price levels, contract prices, markdowns, and quantity discounts. Set up price rules that automatically adjust on a transaction. Ease compliance requirements with managing state specific bottle deposits, allowing local business to thrive with our grocery stores pos system.
We connect with the top accounting solutions in the industry eliminating the need for manual entries and significantly reducing human errors, so you can focus on customer management and sales reporting.
We have a variety of customizable features and options available. Set up a call today to discuss your business needs and determine the best custom solution.
Immediate benefits you'll realize from Rapid's POS Software
Easy and real-time access to information about your inventory, customers, vendors and overall business operations.
Create a checkout experience that is accurate, simple, and secure.
Improve every touchpoint with your customer to build and strengthen customer loyalty and word-of-mouth promotion.
Advanced Connections to Enhance your Business Operations
No POS solution can solve every headache on its own. Rapid's POS solution brings a suite of integrated best-in-class tools to expand the functionality and utility of your system in ways you've only dreamed about. Some of our most popular integrations include: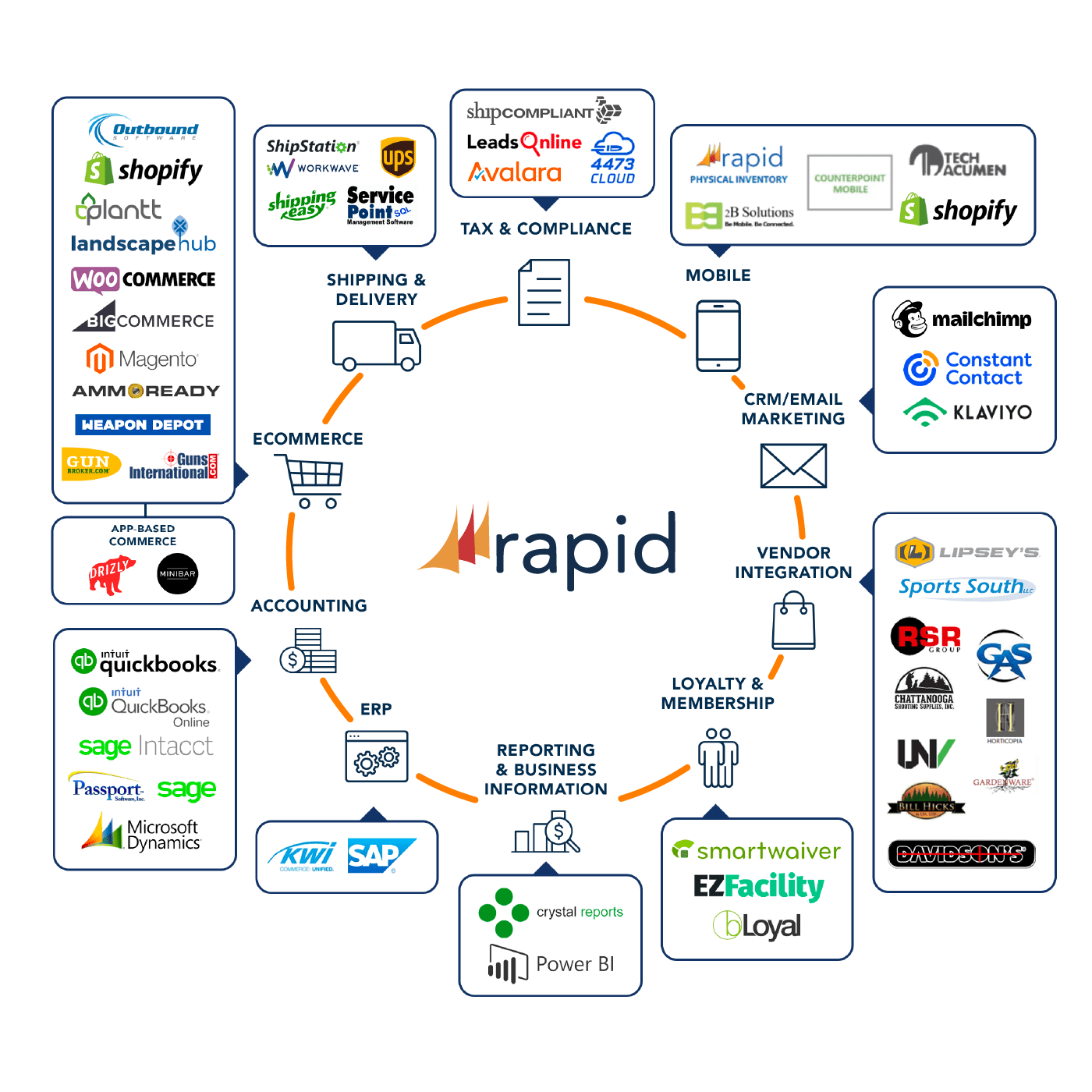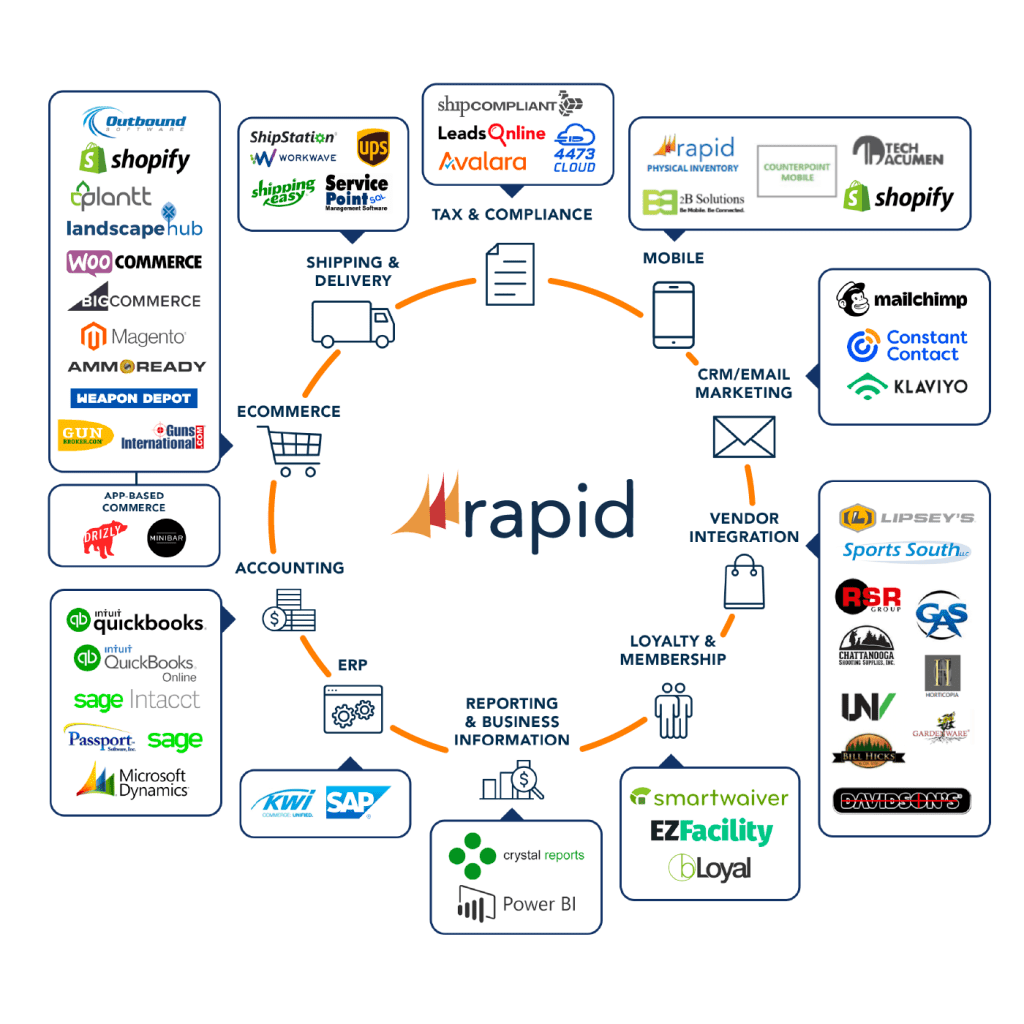 Rapid was able to meet our specific business requirements including the integration to our SAGE accounting software which has saved me a great deal of time that I use to focus on more important aspects of my business.